Inquiry Into Gifts: introduction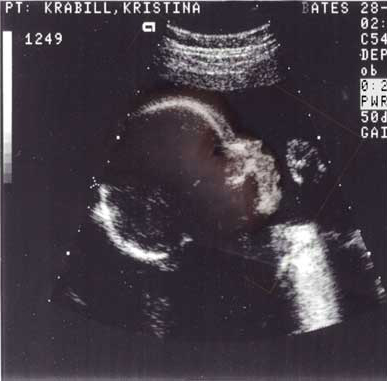 title: Emily's Sonogram
This image blends a sonogram and a photo of Emily after she was born.
In the summer of 1997 I began a sabbatical from Bethel College (Kansas) where I was teaching at the time. The previous December our second of three children had been born. The artwork that emerged then was a set of prints related to Emily's birth.
Sitting in my office now at Goshen College, it does not seem like that long ago, but lots of things have changed. When I see my seven-year-old I know it has been a while.
The presentation that this website is based on has gone through different evolutionary stages, but it is still really a snapshot of that time, of what I began to learn from our daughter in the first year of her life.
(note-If you hold the mouse over the image, information about the image will appear.)
—on to the work.
• next »